Using OrgPlus to create the Business Card Box Format
In this example, you'll learn to apply the Photo Left view template to your chart.
Step 1: Build your chart using the Import Wizard.
Step 2: Use the Photo Manager to import employee photos.
– Select the option to have a new photo field created and added to all of your chart boxes.

Step 3: Apply the Photo Left View template.
– Open the Templates panel and select View templates.
– Double-click on the Photo Left template.
– The Photo Left template is now applied to the chart boxes.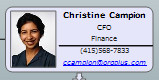 Use the Photo Left view template to format chart boxes to mimic the look of professional business cards creating chart boxes that are both attractive and easy to read.